4 REASONS TO EAT BETTER: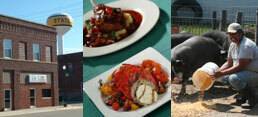 FLAVOR:
Berkwood Farm's pork gets its flavor from the heirloom breed we raise. Berkshire Pork is the oldest breed of pork in existence today, and raised for the meat's distinctive color and marbling – two character traits that make our pork tender, juicy, and flavorful every time.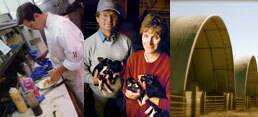 QUALITY:
Raising Berkshire pigs is one of the many reasons Berkwood Farms can provide you with quality pork every time. But we don't stop there. We also bring together humane, on-farm production practices, quality control and hand inspection to ensure our product is of the finest quality around.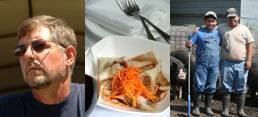 FARMER OWNED:
Berkwood Farms is owned by the very farmers who raise the Berkshire pork we sell. As a Limited Liability Company you can be confident that the rewards of our hard work are passed directly to the family farmers who own Berkwood Farms LLC.
SUSTAINABLE:
Humane animal husbandry and earth-friendly production practices ensure ecologically sustainable farms. And, as owners, we pride ourselves in the knowledge that Berkwood Farms is one of the most economically and environmentally sustainable food companies around.
Berkwood Farms is a coalition of over 60 independent family farmers. We have strived to reach excellence, by never sacrificing quality. Through this philosophy we have come to be one of the largest American suppliers of 100% certified pure heirloom Berkshire pork, and the only farmer-owned company with national distribution.
The heart and soul of Berkwood Farms is our farmers. Many of our farmers are the 2nd, 3rd, 4th and in some cases the 5th generation of their family to be engaged in animal husbandry. All of our farmers have committed themselves to a strict code of responsible and humane animal husbandry. They each take pride in the product they produce, and work hard to ensure their animals are raised in a healthy, humane, and environmentally friendly manner. Tradition is never forgotten at Berkwood Farms. We walk humbly in the footsteps of those who have come before us and work together to build a brighter and a more sustaining future.
As a farmer-owned company, we take the time to personally guarantee customer satisfaction by hand inspecting each of our products. We are committed to producing the highest quality Berkshire pork, and strive each day to find new and more advanced technology as well as investing in further research to reach this lofty goal.
Berkwood Farms has grown from the dream to provide the best tasting pork for local restaurants, to a company that sells product nationwide to America's top chef-owned restaurants and national grocery stores. To stand out among the crowd you have to be better. All of us at Berkwood Farms care about the food we enjoy at our favorite restaurants or around the dinner table at home. We know that the quality and taste of our product is unmatched anywhere. We believe it stands as a testament to our hard work that we not only bring you the best tasting pork around, but also that the profitability and sustainability of our farm families is ensured and continuously maintained.
STAFF
Kristine Kash
Director of Operations
Gregg Mooers
Key Account Manager
---
If you are interested in carrying our product and would like to speak to a sales representative, call the Berkwood Farms office at 515-244-7675 or email CONTACT US.